SoftWash Systems Equipment
It All Started with A Revolutionary Design
The key foundation to this system is our proprietary cradle skid. This patent pending piece of equipment features a Lower Skid Unit that allows the cradle skid to be mounted into a pick-up truck without adding additional holes to the inside of the truck bed. With the addition of a spray-in bed liner, this design helps keep water, over spray and chemicals from seeping through your truck bed onto valuable vehicle systems and parts under the bed.
The SoftWash Systems Generation III systems have exclusive technology like Blend Technology and our 50 and 100 Gallon tank modules. SoftWash Systems has always been the industry leader in innovation and leadership and our commitment to our equipment shows that leadership.
The Generation III Cradle Skid Format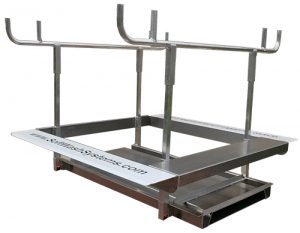 Our SoftWash Systems Full Aluminum Cradle Skid has been through several generational changes since 1998. This proprietary, patent pending design features a universal fit that allows the skid to be mounted into any mid-size or full-size pick-up truck bed. There is a minimum requirement of six feet (6′ US) in length.
Additionally, the cradle skid has the ability to fit up to (4) of our 50 gallon tank modules or up to (2) 100 Gallon tank modules. This allows for customization of the skid for various cleaning techniques including soft washing but also, pure water window cleaning and pressure/power washing.
The cradle skid can be equipped as shown above with our built-in ladder rack or the rack can be omitted from your order so you can use your preferred ladder rack or even house the system under a commercial truck cap. Our ladder racks are removable so if you live in a deed restricted community and need to garage your truck you can remove and stow your ladder racks.
The bed rail cradles telescope up and down allowing for various truck bed depths as well as widths. The right and left bed rails have been extended to 10″ so that reels can not only be mounted on the rear of the system but on the sides as well. This gives the user a 270 degree (three sided) mounting area for reels.
A New Era, The World System
SoftWash Systems in an effort to expand globally has developed what we are calling our World System Integration Generation III Format. These tank modules can be flipped to either side of the cradle skid so we can accommodate the differing vehicles of the world. This changes what a SoftWash System might look like in the US versus Europe or even in Australia. Vans are an important part of daily business for the vast majority of the worlds soft washing markets. SoftWash Systems Generation III Cradle Skid Technology has a foundation we call our Lower Skid Unit.
This Lower Skid Unit or LSU can be used alone to mount any of our World System Modules to either curbside left (Europe) or curbside right (US). There are 4 sizes of the LSU the largest being the XL. The XL LSU is 6′ in length and 40″ wide and has built in fork lift pockets. This LSU can easily be mounted within a van allowing the user to mount up to four of our tank modules within. The four modules would each have an exclusive square modular 50- US gallon (189 liter) or 100- US gallon (378 liter) poly tanks giving the user a water and chemicals capacity of 200 US gallons (758 liter).
There are currently four different sizes of the LSU.
XL – 72" – Capacity of (4)50 Gal. Tank Modules Or a mix of 100 gal / 50gal Tank Modules.
L – 57" – Capacity of (3) 50 Gal. Tank Modules OR a mix of (1)100 Gal. and (1) 50 Gal. Tank Modules.
M – 46" – Capacity of (2) 50 Gal. Tank Modules OR (1) 100 Gal Tank Module.
S – 27" – Capacity of (1) 50 Gal. Tank Module
The entire cradle skid system has now been configured into easily assembled components which can be purchased separately as you move your SoftWash System from a trailer to a van and eventually into a truck bed. Growing with us as you grow is easy with this system.
Another SoftWash Systems innovation is the Graduated Tank Strap. This propitiatory / patent pending technology allows us to secure our 50 and 100 gallon tanks to any of our LSU's, and securely mount various pieces of equipment atop those tanks saving valuable space, building upwards not outwards. The Graduated Tank Strap allows our modules to be mounted either curbside right (US), or curbside left (Europe).
Up to four (4) tank modules can be mounted on any one system in various configurations allowing a customized feel to your SoftWash System. Depending on the types of cleanings you currently perform, we can add modules to your SoftWash Systems Cradle Skid that take several pieces of equipment to currently perform and consolidate those basic operations alongside your new soft washing operations. All neatly and safely within a single truck cargo bed.
SoftWash Systems has adjusted our new World System Integration to meet the needs of small truck owners everywhere. Now even smaller mid-size trucks can have the same fire power as the full size trucks as they too can add up to four (4) modules to a cradle skid system. All within the back of their reduced cargo foot print.
Our new modular line-up include basic elements to build upon our Cradle Skid format. These elements are our Tank Modules.
"Tank Modules" are self-contained systems built on top of our 50-gallon poly tanks and Graduated Tank Straps. These are standalone pieces of equipment that need little or no mechanical expertise to install. This allows soft washing professionals to easily upgrade or even change the configuration of their Cradle Skid System by only removing four bolts. On every module all the electrical, plumbing and controls are mounted a-top the Graduated Tank Strap for a true plug and play installation.
THE BLEND TECHNOLOGY
SoftWash Systems is always innovating. Under the leadership of AC Lockyer we have been able to address the concerns of employers and soft washing professionals through education and business systems but also through the development of equipment that is easy to use, maintain and doesn't waste chemicals or other resources. That is where our Blend Technology comes in.
The SoftWash Systems Blend Module's metering valve system allows you to draw bleach and surfactant into your soft washing solution. This tank is designed to hold up to 100 gallons of bleach/SH (not a mixed solution). The Blend brings in water and your surfactant at the time you are ready to spray. This makes measuring bleach to chemical ratios simpler than ever before. This technology keeps overuse of chemicals to a minimum over traditional one batching methods (one batching is where all of the chemicals used in the cleaning are mixed all at once in a single tank).
The Blend lets you to control your mixing ratios all at the turn of a knob, allowing you to reap profit from higher profit margins by reducing labor time on jobs. This Blend Module can be configured into any size cradle skid that you desire. We have several smaller all-inclusive equipment units that include this Blend Module and its high capability – such as the Blend 50, Blend 100 and the Blend and Rinse unit.
Blend Technology from SoftWash Systems and is not to be confused with downstream injection. Downstream injection or what pressure / power washers call "down streaming" is the use of a venturi-style injector that draws a bit of chemical from a bucket into the power / pressure washer line as they pressure wash a building. Though more chemical can be drawn and applied by using a larger orifice tip in the pressure washing gun, this downstream injector becomes less and less effective and has less and less of a draw the further you move away from the power washer or the higher up you must go to clean the surface. Not to mention many of these injectors only operate at a 10 / 1 ratio which is not strong enough to soft wash with.
A Legacy to Uphold
SoftWash Systems created the soft wash industry. We have a responsibility to lead and innovate and to provide the tools for our in-network companies to succeed. Our legacy fulfilled would be to one day look back and see that our equipment, chemicals, education and support provided the catalyst necessary for entrepreneurs to support their families and create jobs. We know that leadership through innovation creates that opportunity and fosters that legacy.