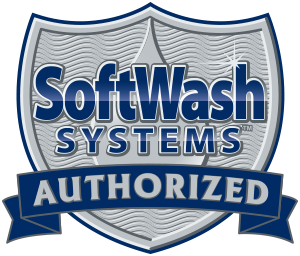 Authorized Professional
SoftWash Systems Authorized Professionals are our in-network softwashing contractors who exclusively use our equipment, chemicals and certifications in all aspects of their soft washing company. There is no question when you hire one of these Authorized Professionals that they will show up to clean your property with our SoftWash Systems Cradle Skid soft washing system and will be exclusively using our SoftWash Systems chemicals to perform the service.
These Authorized Professionals have not only met the requirements of being a Certified Applicator but also pledge to our Softwashing 50 Point Standard. They meet a rigorous qualifying process that includes every one of their employees is certified to their exact job position. These Authorized Professionals also adhere to our Good Stewards environmental stewardship program upholding the highest standards for best management practices within our industry.
Finally each and every Authorized Professional Company undergoes third party verification with Ask The Seal to determine if they are properly licensed and insured for their state and county, as well that every single employee has been screened and background checked for predatory criminal history that may put our property owners at risk.
The best statement that describes our Authorized Professionals is… "When using a SoftWash Systems Authorized Professional you the property owner can rest assured that they are using exclusively all of the products and education, SoftWash Systems has to offer". Additionally whether that Authorized Professional is a public servant like a police officer or a fire fighter softwashing part time, or a multiple branch business owner, anyone who has earned this status as an in-network company is fully endorsed by SoftWash Systems.
Becoming Authorized Professional
Anyone can build soft wash style equipment and sell soaps. Ony SoftWash Systems offers a turn-key business model with the best tools and support in the industry! If you want to have the support of a nurturing business oriented community and the leadership of the owner of a multi-million dollar cleaning company / patriarch of the soft wash roof cleaning industry, then consider becoming an in-network company with SoftWash Systems.
Qualifications:
1.  

Earn 2,500 SoftWash Tabs annually* (year two qualifying season).

2.  

Met all of the requirements of being a SoftWash Systems Certified Applicator.

3.  

Pass the SoftWash Systems Authorized Professional Program.

4.  

25% of SoftWash Tabs / Points Redeemed on employee training.

5.  

Exclusive Use SoftWash Systems chemicals.

6.  

Exclusive Use SoftWash Systems equipment. (Must have a SoftWash Systems Cradle Skid System)

6.  

Member of an Industry Association. (UAMCC, IWCA, PWNA)

7.  

The Seal (SEALED). See details at www.AskTheSeal.com
BENEFITS:
1.  

Discounted Standard Shipping (coming soon).

2.  

Co-Brand with SoftWash Systems on your advertising, website, truck and storefront.

3.  

Featured on the SoftWashSystems.com State by State Listing B Position Ad.

4.  

Blog Space on the SoftWash Community.

5.  

SoftWash Systems Status Badge – On Your Site.

6.  

Access to exclusive Authorized Professional advertising materials.

7.  

Qualified to receive SoftWash Systems referral business.

8.  

Ability to participate in the SoftWash Systems Co-Op Advertising Funds.